BOOM! A Multi-Sensory Experience
Immerse yourself in the award-winning, multi-sensory
experience of BOOM! as it brings all 20-storeys back to life!, sharing the Mill's captivating story and its thunderous roar.
The Underground Tour
Go underground aboard our train into an early haulage tunnel. Inside, discover what it took to be a miner including demonstrations of actual working drills.
Images & Descriptions
Images of Britannia Mine Museum site, exhibits and experiences. 40-200 word write-up's on Britannia Mine Museum.
Britannia Images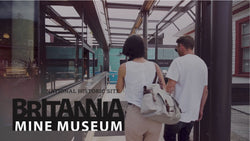 Factsheet
For information on Britannia Mine Museum including 2023 General Admission Rates.
Britannia Factsheet